In golf, an albatross is 3 under par; it is also known as a double-eagle.
A par 5 would be an example.
Holes in one on par 3s are extremely rare, making a hole in one on a par 4 even more so.
The "Par" of any given hole is determined by the number of strokes an expert player should take to complete the hole. Male par 5s typically range from 470 to 600 yards, and par 5s are usually where an albatross is most likely to occur.
Par 6s can be found on some courses, including Meadows Farms in Virginia. With a distance of 841 yards from the back tees, a three on this hole would be the nearly impossible feat of an albatross on a par 6.
How rare is an albatross in golf?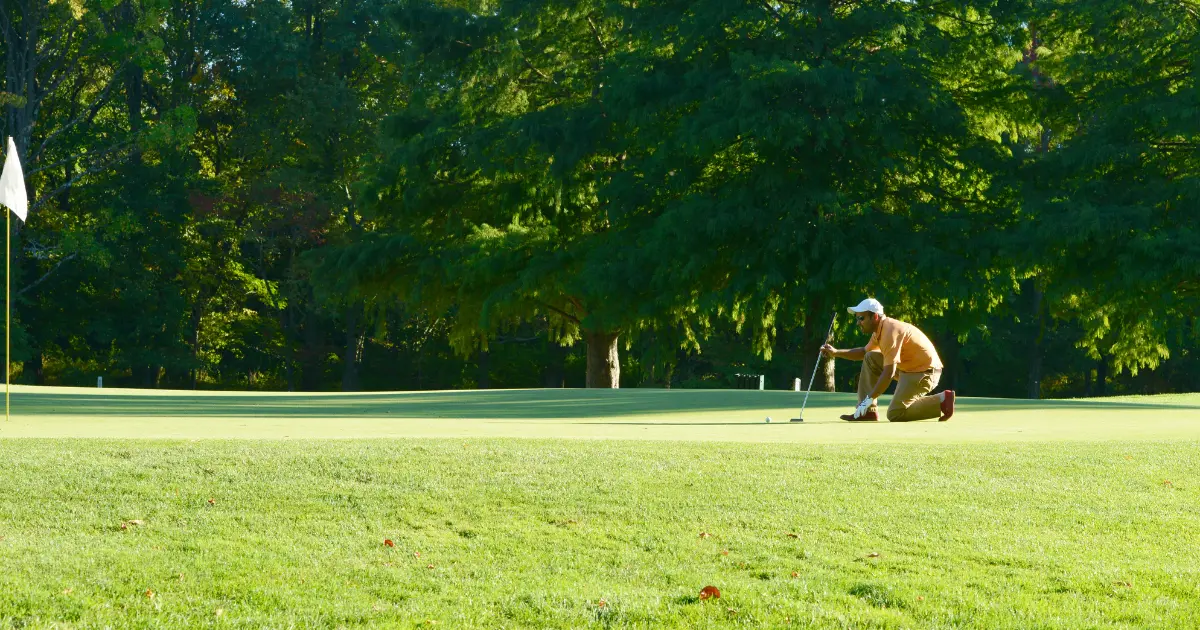 In golf, an albatross is an extremely rare feat achieved when a player scores three under par on a single hole. It is even rarer than a hole-in-one or a double eagle, making it one of the most difficult accomplishments in the sport. The probability of getting an albatross is minuscule, as it requires not only skill but also a combination of perfect technique, power, and precision. The vast majority of golfers will never experience the joy of hitting an albatross in their entire golfing career.
The difficulty lies in the fact that it requires the player to make an eagle (two under par) and then follow it up with another birdie on the same hole. The golfing community often considers achieving the albatross as a once-in-a-lifetime accomplishment, and they celebrate those individuals fortunate enough to achieve it for their exceptional talent. It is a remarkable occasion in golf and serves as proof of the player's exceptional skill and dedication to the game. 
What is a condor in golf?
In golf, a condor is an extremely rare term used to describe a very unusual score on a hole. It is believed to be the lowest possible score that can be achieved in the game. A condor occurs when a player scores a four under par on a single hole. This can happen when the golfer holes out their tee shot on a par-5 hole, thus achieving an incredibly rare and fantastic eagle. However, it is important to note that a condor is more of a theoretical term rather than a regularly achievable score.
Other side an albatross in golf refers to scoring three under par on a single hole. While still difficult to accomplish, an albatross is relatively more common than a condor. A player achieves this remarkable score in the world of golf when they complete a par-5 hole in just two shots or a par-4 hole in just one shot, resulting in a celebration.
Why is it called an albatross in golf?
 An albatross in golf is a term used to describe when a player scores three strokes under par on a single hole. Some regions also refer to this rare accomplishment as a "double eagle." But why is it called an albatross? The origin of this term is quite interesting. In golf, players often use bird names to describe different scores, with "birdie" representing one stroke under par and "eagle" representing two strokes under par.
They chose the albatross, a large seabird, to represent three strokes under par, as they see it as a bird with extraordinary skills and abilities. Just like the albatross, scoring an albatross in golf requires exceptional skill and precision. Over the years, the term has gained popularity within the golfing community, and now they widely use it to celebrate this remarkable achievement on the green.
How many albatrosses in golf
An albatross in golf is a term used to describe when a player scores three shots under par on a single hole. Making an albatross is a rare achievement and golfers consider it to be one of the most difficult shots to make in the game. In fact, an albatross is even more uncommon than a hole-in-one.
To put it into perspective, experts estimate that the odds of an average golfer making an albatross are 6 million to 1. This rarity is due to the combination of skill, accuracy, and luck required to make such a shot. Considering that professional golfers play numerous rounds throughout their careers, the number of albatrosses in golf is still relatively low.
However, as the game continues to evolve and players become more skilled, the frequency of albatrosses is slowly increasing. Nonetheless, an albatross remains a remarkable accomplishment that continues to captivate and inspire golfers worldwide.
PGA TOUR ALBATROSSES
 The PGA TOUR showcases the world's best golfers and their incredible skills on the course. One of the rarest and most prestigious achievements in the sport is scoring an albatross, a term used to describe a score of three-under-par on a single hole. Albatrosses are a true testament to a player's exceptional shot-making ability and strategic prowess. In the PGA TOUR, players witness numerous albatrosses each season, although other types of scores are more common.
Golfers such as Phil Mickelson, Rory McIlroy, and Tiger Woods have all managed to achieve this impressive feat at various tournaments throughout their careers. The thrill and excitement that surrounds an albatross on the PGA TOUR is unparalleled, and it leaves spectators and fellow competitors in awe. It is a memorable moment that signifies the brilliance and talent exhibited by these elite golfers, forever etching their names in the history of the sport.
It's easy to lose sight of how difficult the game can be, especially when we see highlights of the world's best players.
NOTABLE ALBATROSSES
The NOTABLE ALBATROSSES in golf are a rare occurrence that showcases exceptional skill on the course. An albatross in golf refers to a score of three under par on a single hole. One of the most difficult achievements in the sport is hitting a remarkable shot that results in the ball going into the hole in just two strokes on a par-5 hole. The term "albatross" derives from the rare and majestic bird known for its impressive wingspan.
Some of the most memorable notable albatrosses in golf include Louis Oosthuizen's incredible shot at the 2012 Masters Tournament and Gene Sarazen's historic albatross at the 1935 Masters. These exceptional moments in golf serve as a reminder of the brilliance and extraordinary talent possessed by those who can achieve such a feat. The albatrosses in golf are not only a testament to the skill of the individual player but also create a sense of awe and excitement among fans and fellow golfers alike.
In the 2012 Masters at Augusta National, Louis Oosthuizen made a rare albatross on the second hole, which was only the fourth one ever in the history of the tournament.
"The Shot Heard Around the World"
Gene Sarazen was the first to make an albatross in a Major Championship, doing so in the 1935 Masters at Augusta National Golf Club's 15th hole. This shot propelled him into a playoff, where he defeated Craig Wood. He was the first to complete the modern grand slam, winning The Masters, US Open, British Open, and PGA Championships.
There have only been 18 albatross sightings at Major Championships (4 at The Masters, 3 at The US Open, 8 at The British Open, and 3 at The PGA Championship).
WHAT ARE THE CHANCES?
Let's start with the odds of getting a hole-in-one. According to the PGA of America, the average golfer's chances of making a hole-in-one are about 12,000 to 1. In everyday American conversation, here's how you could put it: "So, picture this: the chances of two buddies in the same group acing the same hole? One in 17 million! And if that's not mind-boggling enough, the odds of a single player hitting two aces in one round? A staggering one in 67 million!"
Tell that to 14-year-old Adele Sanford, who achieved this incredibly rare feat in the Club Championship at Canmore Golf and Curling Club.
The estimated chances of seeing an albatross are 6 million to 1. Using similar factorials, the odds of two players in the same group making an albatross on the same hole are a whopping 8.5 trillion to 1. Christian Emmerich and Owen Egan, Holy Cross college teammates, made twos on the same Par five during a practice round at Blackstone National in Sutton, Massachusetts.
Time will tell if Augusta National Golf Club will welcome Louis and the rest of his LIV golf colleagues inside the pearly gates for the next edition of The Masters Tournament in 2023.
Russell Henley's amazing birdie on the 11th hole at TPC Sawgrass during the 2022 Players Championship really shows how golfers can go through a rollercoaster of emotions. Following a double bogey with an albatross is unmistakably representative of the highs and lows that any golfer will experience if they play the game long enough.
Is Tiger Woods an albatross?
While Tiger Woods may have had his fair share of controversies, it is unfair to label him as an albatross in the world of golf. An albatross in golf refers to an extremely rare feat of scoring three strokes under par on a single hole. However, in the context of Tiger Woods, the term takes on a negative connotation, signifying a burden or hindrance.
Despite facing personal and professional setbacks, Woods has showcased exceptional skill and dominion over the game throughout his career. His countless achievements, including 15 major championships and 82 PGA Tour wins, solidify his position as one of the greatest golfers to have ever played the sport. Though his career has faced turbulence, to deem him an albatross fails to acknowledge his contributions and impact on golf.
People will always remember Tiger Woods as a legend who showcased prowess, perseverance, and unrivalled dedication to the game. Considering that Tiger's name is present in nearly any of the primary records, and he has not yet made an albatross on Tour, this should indicate the incredible difficulty of achieving this feat and the significant amount of luck it requires. He got within a foot of Brooks Koepka at the 2015 Waste Management Phoenix Open.
FAQs
Is an albatross better than an eagle in golf?
Yes, an albatross is better than an eagle in golf. An albatross is scoring 3 under par on a single hole, while an eagle is scoring 2 under par.
Is condor better than albatross?
Yes, a condor is better than an albatross in golf. A condor is scoring 4 under par on a single hole, which is even rarer and more impressive than an albatross.
Has Rory McIlroy ever had an albatross?
Yes, Rory McIlroy has made at least one albatross in his professional golf career. In the final round of the 2016 Masters, he scored a 2 on the par-5 15th hole.
Conclusion
An albatross in golf is when a player scores 3 strokes under par for a single hole. It's an extremely rare and impressive feat, even more so than an eagle (2 under par). While a hole-in-one is scoring 1 under par, an albatross is 3 under. Some top golfers like Rory McIlroy have accomplished albatrosses, but they remain very uncommon during both professional tournaments and casual play. The nearly impossible condor, which represents scoring 4 under par for a hole, surpasses only the albatross.
Make sure to read these articles next: