Going to the golf driving range can be a fun and rewarding experience for golfers of all skill levels. Having the right attire and gear can make your time at the range more enjoyable and allow you to work on your swing comfortably. In this article, we'll go over everything you need to know about what to wear at the driving range of Golf.
When heading to the driving range, the most important factors in choosing your outfit are comfort, mobility, and protection. The driving range involves a lot of movement – twisting, swinging, bending – so your clothes should accommodate your body's needs. At the same time, the right clothes can shield you from the elements and any errant golf balls flying around.
Picking suitable attire for the driving range is also about upholding certain etiquette and traditions of the game. While you don't need to wear slick golf pants and polos, you'll want to avoid overly casual clothing. The right balance of comfort, functionality, and decorum is key.
Wear To a Driving Range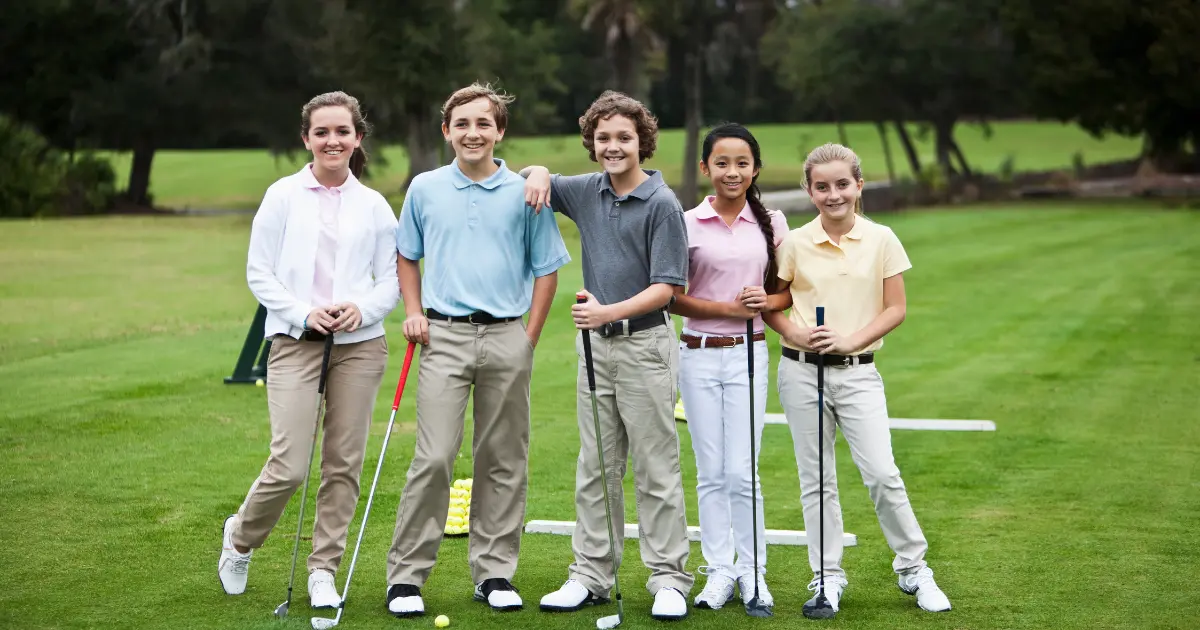 When deciding what to wear to a driving range, comfort and functionality should be prioritized. Opt for clothing items that allow for a wide range of motion, such as breathable and lightweight materials. A pair of comfortable golf shoes with good traction is essential for stability during swings. A hat or visor can provide protection from the sun, while sunglasses can reduce glare. It is advisable to wear fitted pants or shorts and a collared shirt for a more professional look. Additionally, don't forget to apply sunscreen to protect the skin. Overall, the goal is to choose attire that allows you to move freely and comfortably while also protecting you from the elements.
What is Golf Driving Range Attire?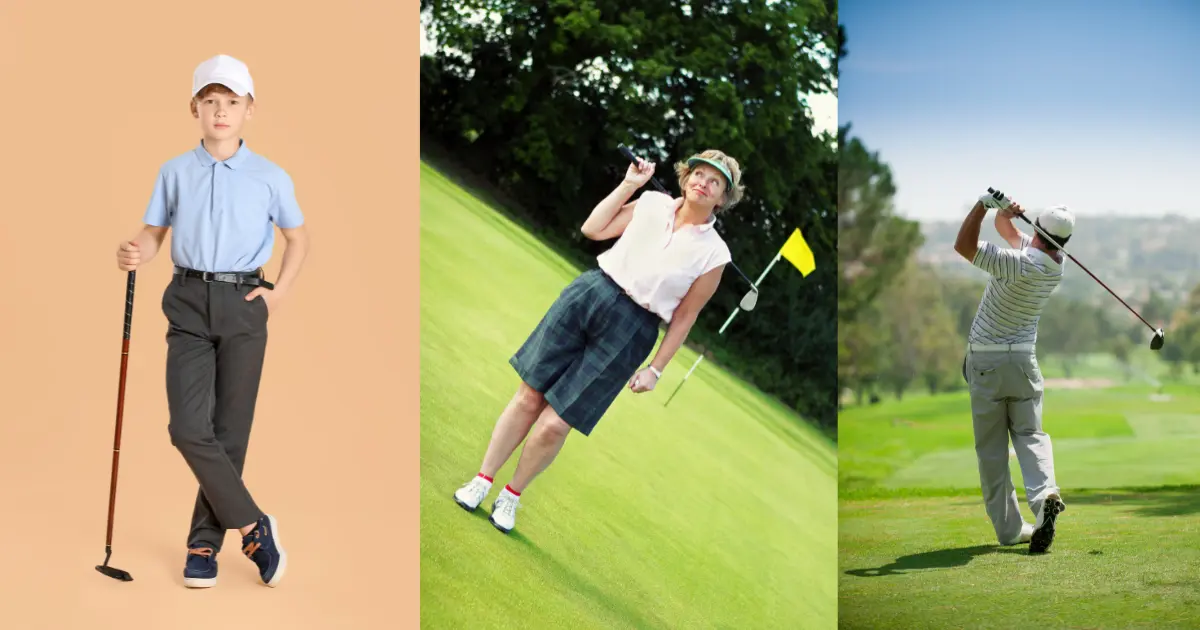 Golf Driving Range Attire refers to the appropriate clothing to wear when visiting a golf driving range. It is important to dress comfortably but respectfully in order to maintain the proper golfing etiquette. Generally, golfers should opt for a collared shirt and khaki or golf shorts. Avoid wearing jeans, t-shirts, or overly casual attire that may be deemed inappropriate. It is also recommended to wear golf shoes or comfortable sneakers that provide proper traction. While not mandatory, wearing a hat and sunscreen is advisable to protect oneself from the sun's rays. By following these guidelines, golfers can enjoy their time at the range while looking and feeling the part.
Golf driving range attire refers to the clothing and accessories golfers wear when practicing at the golf range. The ideal outfit should allow a free range of motion, absorb sweat, and provide protection.
Appropriate golf range wear includes:
Golf shirts or polos
Golf pants, shorts, or skorts
Pair of golf shoes or sneakers
Golf gloves
Hats or visors
Layers for changing weather
Avoid overly casual clothes like jeans, tank tops, or revealing outfits. Range attire should be neat, clean, and allow you to focus on your swing.
How It Helps Your Driving Range Session
So, you're headed to the golf driving range, huh? Well, listen up and I'll tell you what to wear to make the most of your session. You wanna make sure you're dressed in the right golf driving range attire, buddy. Don't go showing up in flip-flops or a fancy suit, that's just gonna make you look like a fool. Grab some comfy golf shoes, maybe some shorts if it's a hot day, and a breathable shirt. Trust me, this kinda outfit helps your driving range session big time. You'll feel unrestricted in your swing, your feet won't be sliding all over the place, and you'll stay cool in the summer heat. So, dress smart and swing like a pro, my friend!
Wearing suitable clothes to the driving range provides several benefits for your practice session:
Freedom of Movement
Golf involves a lot of twisting, swinging, and pivoting. The right flexible, lightweight fabrics allow your body to move freely throughout the swing. Constricting, heavy, or overly loose clothes can restrict motion.
Moisture Wicking
A driving range session often means working up a sweat. Moisture wicking performance fabrics draw sweat away from your skin, keeping you cool and dry. This prevents discomfort and distraction.
Sun/Weather Protection
Hats, visors, and UV protection clothing shield you from the sun's rays. Layers and weatherproof gear allow you to practice in any condition. Being equipped for the elements keeps you comfortable.
Protects Against Errant Balls
Mid-calf length golf pants or skorts provide an extra barrier against stray balls that may ricochet off the range. Long sleeved shirts add protection for your arms.
Upholds Etiquette
While a dress code may not be enforced, wearing traditional golf attire shows respect for the game. It also helps you focus on your practice rather than your outfit.
Key Features of Good Driving Range Attire
When selecting clothes for the driving range, look for items with these attributes:
| | |
| --- | --- |
| Stretch and Flexibility | Seek tops and bottoms made from moisture wicking fabrics with four-way stretch. This allows a full range of motion. |
| Loose Fit | Avoid skintight items. A loose, relaxed fit allows air circulation and freedom of movement. |
| UV Protection | Look for garments made of fabrics that block UV rays, particularly upper garments. Additionally, hats and visors offer shade as well.  |
| Layers | Several light layers allow you to adjust to changing weather and temperatures. |
| Comfortable Shoes | Golf shoes provide traction and support. Sneakers work too. |
| Performance Fabrics | Modern technical fabrics wick moisture, resist stains, and provide ventilation. |
| Pockets | Shirts and pants with pockets hold golf tees, ball markers, etc. |
What to Avoid When Dressing for the Range
When dressing for the range, it's important to know what to avoid. First of all avoid wearing loose, flowing clothing that can get in the way during your swing. Instead, opt( to make a choice) for fitted attire that allows for unrestricted movement. Lastly, avoid flashy accessories that could be distracting to yourself or others at the range.
There are certain clothing choices you'll want to avoid when practicing your swing at the driving range:
Jeans: Heavy, restrictive denim inhibits movement and causes discomfort.
Workout clothes: Spandex and revealing gym wear is too casual for the range.
Street shoes: Lugged soles and casual shoes make it tricky to swing smoothly.
Jewelry: Bracelets, watches, and rings hinder your swing path.
Leather belts: Can scuff and damage golf club grips during practice swings.
Flip flops: Don't provide needed support and traction. Can break mid-swing.
Graphic tees: Loud logos and prints are distracting. Opt for solid colors.
Heavy jackets: Bulky winter coats restrict your backswing. Layer lighter clothes instead.
The bottom line is you want clothes that allow you to move freely while maintaining a neat appearance. Remember, the key is to dress comfortably and appropriately for the sport to enhance your performance.
Golf Attire Specifics
Let's go over the specifics on preferred tops, bottoms, shoes, and accessories to give you a better sense of appropriate driving range clothing. When training at the range, having the correct equipment and clothing may dramatically improve your performance and enjoyment. Look for lightweight, breathable fabrics that allow for a full range of motion while selecting clothing. Look for athletic cuts and flexible materials, as well as wicking water technology and UV protection. Avoid anything that is extremely constricting, hefty, or exposing. You'll be able to swing easily while adhering to golf etiquette if you wear the correct clothing and footwear.
To give you a better idea of ideal golf driving range outfits, here are specifics on tops, bottoms, shoes, and accessories:
Tops
For tops, polos, sleeveless shirts, and athletic tops are suitable choices. Look for:
Polyester and merino wool are examples of lightweight, breathable textiles.
Athletic or relaxed fit
Collar or crew neckline
Moisture-wicking and quick-drying
UPF sun protection
Solid colors or minimal patterns
Avoid spaghetti straps, crop tops, or tank tops.
Bottoms
Recommended bottoms include golf shorts, skorts, and pants. Seek out:
Stretch fabrics with four-way flexibility
Loose, comfort fit
Mid-thigh length shorts or skorts
Pleated pants for mobility
Partial elastic or adjustable waistband
Side pockets; back pockets are optional
Stay away from short shorts, leggings, or jeans.
Shoes
Ideal golf range footwear:
Golf shoes with soft spikes or plastic cleats
Athletic sneakers with traction
Lightweight and flexible
Supportive insole
Low heel
Avoid flip-flops, sandals, work boots, or dress shoes.
Accessories
Optional extras:
Golf glove for better grip
Hats or visors for sun protection
Sporty wristbands to wipe sweat
Clip-on golf towel
Ball marker attached to hat
UV protection sunglasses
Avoid bulky jewelry, smart watches, and leather belts.
FAQs
Do you have to wear golf clothes to the range?
You don't necessarily need full-on golf attire, but avoid overly casual clothes like jeans and avoid metal spikes. Neat, clean athletic wear is fine.
Can you wear shorts to the driving range?
Yes, mid-length golf shorts are completely acceptable for the range. Just avoid short-shorts or cutoffs.
What to wear to driving range male?
For men, ideal driving range attire includes:
Tops – Golf polos, athletic shirts, or sleeved t-shirts in moisture-wicking fabric. Avoid baggy t-shirts.
Bottoms – Golf shorts or pants in lightweight material that allows range of motion. No jeans or cargo shorts.
Shoes – Golf shoes with spikes or athletic sneakers with good traction.
Accessories – Baseball cap, gloves, club headcovers as desired.
What to wear to driving range female?
For women, recommended gear includes:
Tops – Sleeveless golf tops, polos, or athletic shirts in high-tech fabrics. Avoid spaghetti straps.
Bottoms – Golf skorts, shorts, or pants in stretchy material for mobility. No leggings.
Shoes – Golf shoes preferably, but athletic sneakers also work well.
Accessories – Visors, gloves, UV protection sunglasses are handy extras.
Can you wear shorts to the driving range?
Yes – Golf shorts are perfectly acceptable for both men and women at the driving range.
Length – Look for comfy, mid-thigh length golf shorts. Avoid short shorts or cutoffs.
Fabric – Lightweight shorts in moisture-wicking performance fabric allow a range of motion.
The key for both genders is wearing athletic clothing that enables freedom of movement while maintaining a tidy, golf-appropriate appearance.
Is it OK to wear a baseball cap?
Baseball caps are fine, just make sure to turn it backward so the brim doesn't interfere with your swing. Golf visors are also great for sun protection.
Should you tuck in your golf shirt?
It's not mandatory, but a tucked-in polo or golf shirt does give off a tidier appearance. Wear it either way based on your preference.
Can you wear sneakers instead of golf shoes?
Sneakers are perfectly fine for the range, as long as they have decent traction and support. Just avoid running shoes with very thick soles.
The main thing is you are comfortable while maintaining golf course decorum. Don't sweat the small stuff!
Conclusion
Picking the right clothes for driving range sessions involves balancing comfort, movement, and protection. Seek out versatile athletic wear in moisture wicking performance fabrics. Avoid restrictive jeans or workwear. Golf-specific apparel like polos and golf shorts are always a safe bet, but athletic wear is fine too. Use layers, hats, and sunscreen to protect against the elements. Don't forget supportive footwear! With the proper attire, you can knock out buckets of balls while focusing on improving your swing.